Faith Guides Bostonians to Conscious Consumption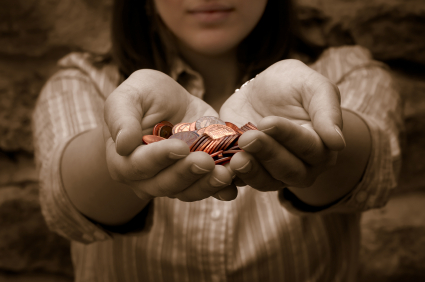 (3BL and Just Means)- Spend joyfully. Spend justly. Spend less. Give more. These bold statements are the four, key precepts taught by The Boston Faith and Justice Network (BFJN) as part of what they call 'economic discipleship.'  BFJN is equipping Christian communities in Boston to think critically about how they use one of their most powerful resources: their income. This call to Christian communities is in response to global poverty and issues of injustice around the world. By asking Christians to examine their consumption habits, BFJN hopes to challenge the way they think about spending and giving money.
"What we are seeing is a downward trend in giving among younger folks.  We like causes in the Facebook sense of the word, but we aren't putting our money where our mouth is," explained Ryan McDonnell, Executive Director of BFJN. " We spend most of our lives making money or spending money or wishing either. We have to have a theology around that and I don't think we have one yet in the Church."
"Does faith move people to give more?" I asked McDonnell

"Yes, but it isn't going to happen unless we resource people to think about it," he replied.
Lazarus at the Gate, a BFJN resource, is meant to do just that. For eight weeks, small groups meet together to study biblical themes on wealth and poverty; share personal budgets; make changes to simplify and change consumption habits and give together.
"Lazarus at the Gate engages people to have a frank conversation about money which is strange in our society. Those types of conversations don't happen very often in or outside of our society. Pair that with conversation about poverty alleviation and high-yielding areas for social change and all of a sudden people are talking about their own needs and the needs of the world around them," said McDonnell.
At the end of the eight weeks, through personal cutbacks in spending, groups give a collective contribution to an organization working to meet one of the globe's many needs. McDonnell explained to me that two Lazarus at the Gate groups of six people in their mid-20's gave a total of almost $40,000 this year.  The first group gave $20,000 to a large-scale spring protection system in Rwanda and the second $19,000 to a project in the Democratic Republic of the Congo.
"One of the women in the second group realized she had room to cut on her clothing budget. She consistently spent money on clothes and as a young professional, that's not an unimportant thing. But she realized, 'I'm not even being remotely creative on spending. I'm receiving a message of spending on clothing and spending.' She took the automatic-ness out of spending and started saving."

McDonnell explained that it's about asking yourself simple questions and being more intentional with when, how and where you spend your money.
"How much money do you spend each week on take-out food? It adds up. We are helping people free up their spending by reducing consumption," said McDonnell.
Since 2007, Lazarus at the Gate has engaged over 400 Christians in groups who gave nearly $500,000 to fight hunger, poverty and injustice. This spring, BFJN is challenging people to consider giving away part or all of their tax return.
"It's a piece of our resources we don't think about in terms of giving. Most Americans aren't giving any of their tax return away. BFJN saw this as an opportunity to have a conversation about generosity," said McDonnell.
And McDonnell is right. According to CNN Money, the majority of Americans spent their 2011 return on savings, debt, and everyday expenses. No designation was allocated to the amount of tax return dollars given to charity or social enterprises—probably because it was so minimal. BFJN hopes to encourage Christians to think about giving as an option for at least a portion of their return.  
"Tax season is a big chunk of change in terms of unencumbered dollars and it's not coming at a time where you have tuition payments or when there's a holiday," said McDonnell.
BFJN desires to shape a culture of giving for their target market that is grounded in their faith.
"I don't think we have to have everything figured out before we start being generous. We are to be faithful every day, not some day when we get our finances worked out. My hope is that anyone who participates [with us] has a better financial foundation and leaves with a better understanding of the world," said McDonnell.
For more information on BFJN, read here. To check out the Lazarus at the Gate curriculum, click here.
Sources: BFJN, CNN Money